UTOPIA
Can a utopia come true?
Definition of utopia
Etymology: term coined by Thomas More (1478-1535) for the title of his work Utopia, built from Greek or not, and topos, place, that is to say, a place that does not exist.
In common sense, utopia is a political organization or an ideal that does not take into account the constraints of reality or objective facts project. By extension, it is a project or an idea that seems impossible, illusory or chimerical.
Utopias are found mainly in literature, philosophy or political thought, through imaginary conceptions of human communities without blemish. They are described in order to serve as models of political and social organization.
The first author is considered Utopian Thomas More who, in "Utopia" (1516), describes an imaginary island forming an ideal state, inspired by Plato's Republic, where they only work 6 hours a day, where the property private is banned and where equality and virtue prevail.
Utopia is a literary genre that developed in the wake of Thomas More, the seventeenth and eighteenth centuries. It combines a narrative of travel and description of an ideal society. The ambition of the writers who have shown and presented utopias rather expanding the range of possibilities and exploration. Fiction becomes a process to take its distance from the present, while the indirectly criticizing, but also to avoid censorship. It helps raise awareness readers that other forms of organization and lifestyles are possible.
The World of Imagination
So, I think It's time to talk about another theme , which is "Imaginary Worlds".
This theme reminds me of the notion of utopia (nowhere/ no land) , which is actually, an ideal. And when we have an ideal, we try to get close to this ideal, if we don't manage, it's kind of depressing , isn't it ? But It's still a utopia !
Thomas Moore dealt with a world where people lived in harmony. According to Plato, a society would be perfect with a perfect "Republic" and communities !
Example of disutopia : Oliver Twist by Dickens
Oliver Twist tells the story of an orphaned boy as he struggles through his early years wandering through the London streets searching for acceptance. Besides being a novel full of comedy, romance, heart-break, and scandal, Charles Dickens' work was also a "statement to his outrage at the primitive conditions of the poor" living London .
Dickens related the frustration felt by the poor seeing as he grew up in a poor family and was put through child labor. By making an orphaned boy, Oliver, the protagonist, Dickens was able to show a different view of the lower class during the Victorian period that was not usually seen. He was able to recreate the deplorable conditions of London.

Throughout the novel, Charles Dickens used many of his description to make his point on the condition of the poor in London. Dickens was able to touch on topics such as the conditions of workhouses, prostitution, and burglary. In fact, Many people lived in conditions that we would find shocking today. People lived the best they could; some survived, many did not and died because of diet and disease (like Oliver's mother). The main victims of these conditions were children:
"Although Oliver had enough to occupy his attention in keeping sight of his leader, he could not help bestowing a few hasty glances on either side of the way, as he passed along. A dirtier or more wretched place he had never seen. The street was very narrow and muddy, and the air was impregnated with filthy odours. There were a good many small shops; but the only stock in trade appeared to be heaps of children, who, even at that time of night, were crawling in and out at the doors, or screaming from inside. The sole places that seemed to prosper amid the general blight of the place, were the public houses; and in them, the lowest orders of Irish were wrangling with might and main."
[Chapter 8]
This passage exemplifies Dickens's perspective of London in Oliver Twist. It is bleak, seedy, poor, and filled with immoral people. These scenes of urban description throughout the novel are often set at night, or in the rain the weather is rarely kind to the slums of London. Here the problem of children without caring parents is exemplified, too, for there are children everywhere, yet no sign of any adults taking care of them. Instead, all of the adults seem to be busy drinking in the pubs. In the city, the poor gather in the pubs, while in the country they gather in the church, and this seems to symbolize the great difference between the two communities why in one setting people can be picturesque and in another they are repulsive.

However, throughout all these things, Oliver seemed to triumph over all the difficulties (the threat of death, the diet, the problem with the Court …) needed to be loved and accepted , at the end , he managed to live a life full of love, money.
Today, through various texts and works we have seen visions of London.
Machen/Morris
Today, we worked on an area of ​​London and a choice of places following Machen and William Morris:
News From Nowhere - William Morris
Resume:
Chapter 1: Discussion and Bed
London winter evening. Narrator out of a meeting of the League (National Liberal League?). Meeting? "Vigorous statement by various friends of Their views on the future of the fully-developed new society." Six tendencies four anarchists -> general crowd.
Narrator takes the subway to go home (Chiswick Eyot) dream that one day this new life: "If I could see a day view of it!" No recollection of what he heard during the réusion.
End chapter narrator -> I to tell "surprising adventures [...] as if it Were myself Have you HAD gone through 'em."
Chapter 2: Morning bath
Narrator wakes up and leaves his house to take a boat on the Thames: it bathes the mind but sth -> he asks the boatman (Dick).
Change of season ". For it was winter When I went to bed last night and now the [...] it was summer, a beautiful bright morning seemingly of early June" Narrator observes the landscape and the boatman (clothing)
Narrator? change between the day and when he speaks seems positive (opened in 2003, houses on the banks, bridge ...)
-> Sympathy
Narrator arrives on a pontoon for lunch. First observation of change: the boatman did not see the need to be rewarded for his work (does not seem to know what the money): "... must come from a place very Unlike England" -> narrator perceived as a stranger, as qq1 from elsewhere
the boatman asked him to be his guide to show him around the country and make it meet its people.
Using a "little silver buggle-horn" Dick called his friend Bob lives in the same place ("Guest House"). Bob dream to perform the same job as Dick.
Mention of Hammersmith and Barn Elms.
Chapter 3: The Guest House and breakfast Therein
Narrator meets three women at the Reception House ("Guest House") and carefully observes (appearance, clothing, character, ...). For their part, the women show some curiosity about the narrator (clothing) and guide Dick, Bob and the narrator their breakfast table. Narrator notes the presence of a plaque on the woodwork (in memory of the Socialist Group in Hammersmith) dated May 1962. Bob asks the narrator (who is now called William Guest) where it comes from but rather lie than tell the truth (mention Walthamstowe and Woodford and major demolition in 1955 by Dick).
Good-natured atmosphere, carefree little surprises qque the narrator. Exchange of questions / answers between William Guest (we learn that he is 56 years old) and its "neighbors."
Dick comes as questions pop and William Guest knows more about how to live his "neighbors" he porpose to take him in Bloomsbury in his great-grandfather, the old Hammond.
Chapter 4: A market by the way
William Guest goes along with Dick in the old Hammond and continued his observations during the trip: there is an absence of sadness in people and predominantly joy in their attitude and describes the architectural appearance of the various buildings that he sees on the road. Besides, it is the architecture "not only exquisitely beautiful in Itself, drank it bore upon it the term of Such generosity and abundance of life."
The two men arrived in a market (see Chapter 5 beginning "Kensington Market") narrator seems stunned by so much beauty in the stalls and the people who come to shop (especially young women). Guest is surprised not to meet "poor people" on its way? Dick does not seem to understand and explain that "sick people" stay at home or hang out in their garden.
Chapter 5: Children on the Road (about education)
The group arrives at Kensington ("Kensington Gardens" specifically, but other than William Guest, nobody knows pq the place is called like that). On their way, they meet children of all ages (also very beautiful: "fine specimens of Their race") that seem fun. Guest Dick explains to the children "learn to do things for Themselves, and get instructions to the wild creatures" and that adults are encouraged.
William Guest mentions to school (such as "system of education" or "system of teaching young people"), which surprises Dick: "I do not see how it Can Have anything to do with children" (it seems not knowing what school and what is its function).
-> Difference between practical education (life everyday) and intellectual education (training the mind). Children seem quite early -> self-instruction (learn what they want, at their own pace).
End of chapter references to famous buildings such as Westminster Abbey, the Houses of Parliament and St. Paul's Cathedral.
-> All are used for different purposes (Parliament Palace = "subsidiaire market", ...)
Chapter 6: A little shopping
Dick and William Guest arrive at Picadilly market. There, Guest experienced small and realizes that "the People were ignorant of the art of buying and selling" is an opportunity for him to change his clothes but Dick dissuaded because its rear- grandfather is a "antiquarian" and it would be interesting to see in the state where it is.
Guest wants to buy tobacco and a pipe: it is used by a girl (aged about 12) who chose him a joke and a pipe which, in the eyes Guest, costs a fortune but Dick "warned him against Reviews another exhibition of extinct business morality. " Once again, Guest was surprised to see children run a shop, what Dick says it's quite common for sth and it allowed them the same opportunity to "handle a lot of diverse wares and get to learn about them ".
Evocation of Sloth ("Idleness"), the "slave-holders" and "Employers" that in the past, forced others to work for them
-> Women lost their beauty and their youth, and caused ugly children ("No Wonder They boron ugly children"). Perceived as a disease laziness ("a survival of the old medieval disease of leprosy"). But for the people of Nowhere, work, to serve, to be jovial, ... is a pleasure.
Chapter 7: Trafalgar Square
The two men continue their journey (with a third person encountered Market Picadilly) and arrive at Trafalgar Square William Guest recognizes almost immediately. It was then that Dick mentions a "great battle [...] large enough" delivered in 1952 and TS could be renamed to a name that would commemorate this battle.
The third man (whose name is unknown) mentions meanwhile a battle that took place in the same place "about the year 1887" (armed robbery of innocent citizens) and would have had no result, that William Guest "contest" to some extent "Many people (the" bludgeoned ") Were feels to prison." is followed by a brief discussion on prisons: William Guest learns their disappearance ("... there are not any prisons") .
Mention of the "National Gallery" which Dick does not seem to see the value, and "factories" that the inhabitants of Nowhere call "Banded-workshops" and where "Have you collect people want to work together."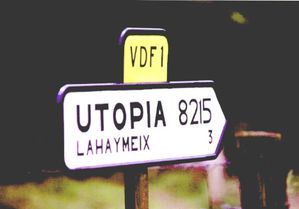 Chapter 8: An old friend
The three men arrived in Long Acre, which is where the third man she met at the market Picadilly left. Mention places such as Holborn, Oxford Street, the British Museum, "the Museum Market" in which the two men come to let their horses rest and go to the back-grandfather Dick (the latter also admits William Guest "May there be some one there Whom Particularly I want to see, and Perhaps Have a long talk with" this is Clara see Chapter 9).
Ironically, Dick said his grandfather "he looks upon himself as share of the books, or the books apart of him, I do not know."? Hammond = a very cultured man.
Chapter 9: Regarding love
Meeting with old Hammond that signals the presence of Dick and Clara realizes that William Guest comes from overseas ("from over the water and far off countries"). Dick explains the presence of the old Hammond Guest: "our guest finds things much altered, and cannot Understand it, nor can I, so I thought I would bring him to you, since you know more of All That Happened HAS Within the last two hundred years than anybody else does. "
Then Clara and Dick eclipse to find; Hammond Guest alone with it obliged to treat "as if [he] Were a Being from another planet."
Hammond tells the story of Clara Guest and Dick are likely to marry again, that Guest did not understand because for there remarriage, there must have been before divorce? he learns that divorce is no longer appropriate because they are only "matters of property quarrels." So, "the sacred rights of property" are no longer + "no law-courts to enforce contracts of feeling or passion. "
Two people say husband and wife if they have mutual feelings for each other and if they are together. This is not PCQ two are no longer together that life stops, so no interest in "exagerate thesis matters of feeling and sensibility." + "No code of public opinion" so no judge anyone.
Situation of women in society more possible tyranny of men and women? more wedding insitutionnel sense. Thus, "The women do What They can do best, and What They like best, and the men are jealous Neither of it or injured by it." + "... It is a great pleasure to a clever woman to manage a house skilfully, and to do it so That all the house-mates about her look pleased, and are greatful to her. "Similarly, women are more concerned for the future of their children? "Insctinct for more maternity than the poor drudge and mother of Drudges of past days Could Have ever had."
Chapter 10: Questions and Answers
The problem of education is raised again. Hammond defines education as follows: "... a niggardly dole of not very accurate information; something to be swallowed by the beginner in the art of living Whether he liked it or not, and was hungry for it or not." Guest Hammond explains that "children thrust into schools When They Had reached an age conventionally Supposed to be the due age, whatever Their varying provisions might be, [...] and some conventional Subjected to a race of 'learning' involves" ignoring the fact of growth "+ poverty did not allow children access to education (" the hurry of poverty forbade anything else ").
? Education under duress is not admissible because more children eventually forget what they were taught.
More traces (or very little) of slums? celebration of "The Clearing of Misery" + "eradication" of industrialization.
Hammond described Guest London area (south of the Thames, Oxford, surrounding villages ...) = Guest anticipation of what will see later.
little or no demolition (s) + invasion of the country by the city ("The Town Invaded the country"); mutual influence between the two "worlds"? "The difference betweens town and country Grew less and less."
"And it was indeed this world of the country vivified by the thought and briskness of town-bred folk All which produced That happy and eager purpose leisurely life of All which you Have had a first taste."
Chapter 11: Concerning government
Guest looks at the issue of government (institution + how to govern): is it of "republicanism" or "dictatorship"?
-> Hammond replied that "We Have No longer anything All which you [...] Would call a parliament" "our present parliament Would be hard to house in one place, Because the whole people is our parliament.".
A dialogue consists of questions and answers opens between Hammond and Guest (visible phenomenon in the book because mention of the name Hammond and "I")
-> Critical Parliament that favored the interests of the "Upper Classes" at the expense of the lower classes and made the people believe that they participated a little bit in the management and direction of their own affairs. If rebellion intervention + law enforcement. Real government of the 19th century = "GOVERNMENT by law-courts and Police" whose purpose was "the protection of the rich from the poor, the strong from the weak." -> + COMPANY UNEQUAL "destruction of wealth"? "Poverty" + "tyranny"
-> More government in society Nowhere.
Chapter 12: Concerning the arrangement of life
Guest Hammond explains that life, although it has been simplified over time, will nonetheless complex. Origin of happiness: "It Would Be as possible for us to contend with and rob each other ', aim Would it be harder for us than from strife and robbery. That is in short the foundation of our life and our happiness. "
The phenomenon still exists transgression ("errors of friends"), but there is not much "criminal classes."
More private propriéte -> disappearance of natural laws and everything that could be considered a crime -. "Thou shalt work in order to live happily">
More Criminal law -> punishment would cause fear and aggravate the evil. For cons, the transgressor must make reparation as far as possible. Origin of violence = private + "artificial perversion of sexual passions" (according to the law, the woman was the property rights) property tyranny family ("held together by no bond of coercion, legal or social, order by mutual liking and affection "), hatred, envy, ...
No trade itself? no trade legislation.
Chapter 13: Concerning politics
Hammond: "I will answer your question by saying Briefly Abebooks web are very well off as to politics, Because we have none"
Chapter 14: How matters are managed
More national rivalries, more inequality between man and man within companies + more so no nation can claim identity by stimulation of patriotism.
Differences of opinion still exist but Ditto for differences between people "do not crystallize people into parts permantently hostile to plans blew, with different theories as to how build of the universe and the progress of time." Pbs are "settle [ d] [...] by the Will of the majorité. "
Nowhere = communist society that Hammond recognized as not being infallible.
Chapter 15: On the Lack of incentive to labor in a Communist society
Question of the award of work:, "the reward of creation" "The reward for labor is life.". In Nowhere, plowing Does not Imply suffering. Haunting the inhabitants of Nowhere = "there is a kind of fear [...] Abebooks web Shall Be short of work. It is a pleasure All which we are afraid of losing, not a pain. "
Guest wondered "how [They] Gained this happiness?" "By the lack of artificial coercion, and the freedom for every man to do what he can do best."
Parallel with the past About World Market, the market economy and mass production (production did not necessarily meet a clearly expressed = Nowhere in need, "All which we make the wares are made Because They are needed. ")
Chapter 16: Dinner in the Hall of the Bloomsbury Market
Dick and Clara back into the room (Hammond and Guest talk from 3:30). The couple, old Hammond and Guest are leaving dinner.
Clara was surprised that it has so much interest in the past, especially in painting and literature centuries.
Chapter 17: How the cam change
Guest is once again alone ac old Hammond and admit that what intrigues the most is "how it all cam about." (A kind of "Revolution" = new evolution of society, which has not accomplished peacefully). Live happily and equality = sth inconceivable for the lower classes, the slaves who finally realized they could spend their masters? implementation of "State Socialism" but resistance of the capitalists? "Great discontent" Workers have teamed up to create "trade unions"? Riots? workers obtained better working conditions and acquired more and more power.
Reduction of working time among workers + law for minimum wage (19th sicèle) to the most important law for + the maximum prices of the main products industries? government decided to create "government factories."
Then Hammond explains how the breakup is installed: demonstration in Trafalgar Square? intervention "bourgeois guard"? + dead prisoners. Further meetings were organized to meet with authorities in another Trafalgar Square two weeks after the first.
London declared a state of siege. Second event in TS (ends, says an eyewitness in a bloodbath).
Beginning of the civil war and "GENERAL STRIKE." Government wanted to intervene but useless because no rebellion on the horizon.
Communism is on the horizon.
Chapter 18: The beginning of the new life
Following the Revolution, improving the living conditions of poor old. The "rebels [...] Themselves felt strong enough to build up the world again from icts dry bones - And They did it, too!" "Workman" and "gentleman" "destroyed commercialism."
Birth of a new life, a new world based on "delight in the life of the world." New Life close to the "Middle Ages." + Belief in "continuous life of the world of men" s + men to love each other = society divided between "blind tyrants" and "apathetic degraded slaves."
However, a threat more competition to stimulate the effort? people more willing to think, to dream because most overworked.
? Remedy: "production of [...] art" (art = "work-pleasure")? desire for beauty ("craving for beauty").
Enjoyment of work ("we got pleasure into our work")
Clara and Dick Guest are looking to go in Hammersmith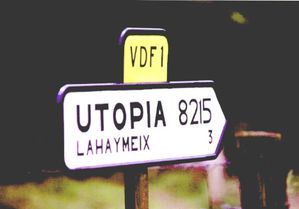 Chapter 19: The drive back to Hammersmith
The old Hammond takes leave and hope to have conveyed a message Guest carry with him when he returns to the world from which it comes: "Who knows purpose I May Not Have Been talking to many people? Perhaps our guest for May some day go back to the people he has come from, and May take a post from us May All which bear fruit for 'em, and consequently for us. "
Obviously, Dick wants to see Guest staying in this: it proposes to take in the North (Wiltshire) during haymaking and harvest to see how people live "happy world to live in"..
Once again, Guest finds beauty clothes the inhabitants of Nowhere and wondered how people who wear such beautiful clothes have the means to afford them = "old blunder" because the money does not exist / more.
Chapter 20: The Hammersmith Guest-House again
Dick, Clara and Guest arrive at the house where they found Home Boffin and Annie seems delighted to see Guest and that the states enjoy more than Clara ("I liked her better than Clara"). "A little feast" is held to celebrate their return. Guest feel a certain serenity contrast + past / present "for the first time in my life, I was having my fill of the pleasure of the eyes without any of That sense of incongruity, that 'dread of approaching ruin, All which HAD always beset me Hitherto When I Had beens Amongst the beautiful works of art of the past, mingled with the lovely kind of the present. "
Chapter 21: Going up the river
Guest gets up early to have breakfast and found Annie in the main room. It is in June ("June morning"). Then Dick and Clara Guest embark on "a pretty boat [...] handsomely ornamented." Guest then imagine the picture of the hay in the land of Nowhere (Table Dick vaguely described him so he can find out for himself same): for him, this show has no interest, no beauty and there is nothing pleasant.
Chapter 22: Hampton Court. And a praiser of past times
The group continues its journey over water. Guest experiences a sense of peace and youth. Clara asks Dick to stop at Hampton Court where, after negotiations between them, they eventually stop for dinner. Then they leave and then stop at Runnymede where they are collected by an old man with whom they spend the night. It was at this time they do the Ellen (granddaughter of old) acquaintance who seems delighted to receive visitors: "The girl danced up to him and threw her arms round him, and said 'Yes, I am, and so you Ought to be, grandfather. "
The old man began a discussion with Ellen Guest but intervenes and engages in a more or less acerbic critic of books and do not hesitate to do so, however, praised the world in which they live: "Books, books! always book, grandfather! When will you understand After All That it is the world we live in. All which Interests us, the world of All which we are a part, and All which we can never love too much. Look "(see P383).
Then the questioning of the old resume Guest: Guest teaches him that the competition is always appropriate where he lives ("... it is the rule there", "the competition [...] is still the rule").
At the end of the chapter, everyone goes to bed. We discover fears Guest ". The pleasure of the evening quite extinguished my fear of the last night, That I wake up in the shoulds old miserable world of worn-out pleasures, hopes and fears That Were half"
Chapter 23: An early morning in Runnymede
Guest gets up early and goes for a walk around the house where they spent the night with Dick and Clara, hoping to meet Ellen. Instead, he meets men and women who question nicely and pass him good. Then he finds Ellen, Clara and Dick in the garden. Then they come home and find the old man: a discussion on / transformations (s) of the past begins. Once again, Ellen is needed and clearly expressed his taste for work and life as a whole "and as for me, I work hard when i like it, because i like it, and think it Does me good, and knits up my muscles and makes me prettier to look at, and Healthier and happier. [...] I love life better than death. "
After their breakfast, the group goes back to the boat to continue up the Thames.
Chapter 24: Up the Thames: the second day
The group returned (we are told it is 7 am) with the old and Ellen. Guest rating change architecture: "I saw [...] That my old enemies the" Gothic "cast-iron bridges HAD beens mittal by handsome oak and stone ones."
The boat passes the lock Datchet. Mention of Eton College and Windsor Castle (museum + place of residence)? little history by Dick.
Then the group addresses to Bisham where they are greeted by "two old men and a younger one" who insist they stay with them. Finally they continue their way to Marple-Durham, at Walter Allen, a friend of Dick, who did not seem very pleased to see despite his insistence to Dick to come visit him. That's when he mentions the death of a young man accidentally killed by another PCQ he loved the same woman as his rival. Obviously there seems to be affected by the death which he did not expect.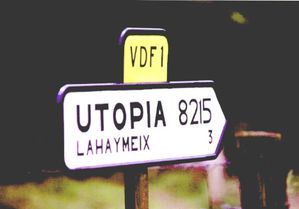 Chapter 25: The third day on the Thames
The next day, Walter returns to the conversation of the day. Then for a debate about treatment "inflicted" on whoever killed. According to Clara, "he had better Have His fill of gloom now, and [...] Presently wake up to see how little need there for it has-beens" + she is convinced that it will commit suicide because his attachment to the girl is too large.
The group resumed its course and stop on the side of Berkshire where they meet a group of girls who would like to see them stay with them but Dick "put forward His theory of beginning the hay-harvest higher up the water, and not spoiling my Therein pleasure by giving me a taste of it elsewhere. "At the same time, Guest notice a certain equality between men and women in knowledge and interest in the things of life.
Chapter 26: The obstinate refusers
On the advice of the girls they met in the previous chapter, Clara, Dick Allen and Walter Guest are going to the north-west walk where they meet those who call themselves "the Obstinate Refusers" denial of participate in the great celebration occasioned haying.
On this occasion, they met a seamstress stone named Philippa, whose work has been delayed due to his illness. Pq is it does not give much attention to its visitors.
Chapter 27: The Upper Waters
Walter landed on the shore of Berkshire and the group continues its way to take a break and dinner in Wallingford where they met to "another edition of old Hammond," Henry Morsom that their tale "the detailed record of the period of change to the present state of things. " Thus we learn that the arts (make bread, build a structure, ...) were lost and that "the old men Amongst the laborers [Had to] teach the younger one Gradually, a little artisanship. "
"You must remember," said the old antiquary, "that the handicraft was not the result of what used to be called Expired material necessity: on the Contrary, That by the time machine HAD beens so much improved That Almost all work Might Have Been Necessary done by 'em: and indeed many people at That Time, and before it, used to think That Would machinery Entirely supersede handicraft, All which Certainly, on the face of it, Seemed more than Likely. Reviews another goal there was opinion, far less logical, prevalent Amongst the rich people before the days of freedom, All which About did not die out at once After That epoch HAD Begun. This opinion, All which from all I can learn Seemed as natural then, as It Seems absurd now, was, that 'while the ordinary daily work of the world Would Be Entirely done by automatic machinery, the energies of the more clever hand of mankind Would Be set free to follow the higher forms of the arts, as well as science and the study of history. It was strange, was not it, that 'They know shoulds Malthus That aspiration Effective full equality Recognise All which we now have the bond of human society all happy? "
"Clara broke in here, flushing a little as she spoke:" Was not Their mistake once more bred of the life of slavery That They Had beens living - a life All which was always looking upon everything, except mankind, animate and inanimate - '? nature, 'as people used to call it -. did one thing, and mankind Reviews another It was as natural to people thinking in this way, that' shoulds They try to make 'nature' Their slave, since They thought 'nature' was something outside 'em. "
"... Effective Machine Machine was quietly dropped under the plea That machine Could not Produce works of art, works of art and That Were called Expired for more and more. "
"I Looked, and Wondered indeed at the deftness of abundance and beauty of the work of men Have you HAD at last learned to accept life itself as a pleasure, and the satisfaction of the common needs of mankind and the preparation for 'em, as work was for the best of the breed. "
After visiting a kind of art museum - personal collection of Henry Morsom probably - it embarks with Clara, Dick and Guest to Oxford where he has to go to go to the Bodleian Library. Then they cross again Ellen, who has followed in the boat for fear of never seeing them again.
Guest takes the oars of the boat and begins the conversation with Ellen. Then at the end of the chapter, as expected, Henry Morsom landed in Oxford. Meanwhile, Guest qques advantage of opportunities given to him to contemplate qques places that are known or unknown (Abingdon, Godstow, ...)
Chapter 28: The Little River
The small group continues its journey, Clara and Dick in a rowboat and Guest and Ellen continued their conversation in another. Moreover it admits to Dick why she decided to catch up: "My friend, You have guessed right about me, and to tell you the truth I have Followed you up from Runnymede in order That I might ask you many questions, and Because I Saw That You Were not one of us;. and That interested and pleased me, and I wanted to make you as happy as You Could Be "Guest advantage of the opportunity given to a kind of statement - unspoken in the text - to Ellen.
Chapter 29: A resting-up on the Upper Thames
Guest realizes that the landscape is treated in the same way that a work of art: "... the fields everywhere Were Treated as a garden made for the pleasure as well as the livelihood of all ..."
The group is a new stop for dinner, and Ellen Guest continue their conversation about art and its disappearance, the life of the rich and the poor ones. Both characters seem to get along very well ("I must say for him That He Has Explained himself to me very well indeed, so That I quite Understand him." "Of one thing I was safe, that 'her beauty and kindness and eagerness combined, forced me to think as she did ") and Ellen Guest would like the lights still on some points.
Chapter 30: The Journey's end
The discussion between Ellen and Guest is now facing the Thames, its history, current state banks - obviously very well maintained considering what happened in the 19th century: "They mismanaged it," quoth I. "Up to the first half of the nineteenth century, When It was still more or less of a highway for the country people, some care was taken of the river and Its banks, and though I do not suppose any one troubled himself about icts aspect, yet it was trim and beautiful Purpose When the railways -. of All which no doubt you Have Heard - came into power, They Would not allow the people of the country to use the Either natural or artificial waterways, of the All which lathing There Were . a great many I suppose When we get higher up Shall we see one of thesis, a very significant one, All which one of thesis railways Entirely closed to the public, so That They Might forces people to send goods by Their Their private road, and tax so as em Heavily As They Could. "
"The river HAVING lost icts or practical business value - that Being is of no use to make money of -"
"Well, it was utterly neglected till at last it Became a nuisance -"
"So They then turned the makeshift business on to it, and handed it over to a body up in London, Have you from time to time, in order to Show That They Had something to do, About did some damage here and there, - cut down trees, destroying the banks Thereby, dredged the river (Where it was not always needed), and threw the dredgings on the fields so as to spoil 'em,. Goal and so forth for the MOST share practised They `masterly inactivity,' as it was then called Expired - that is, They drew Their salaries, and let things alone. "
By Ellen's voice, the narrator gives us (or rather confirms) indirectly almost critical information, namely the lack of money: She nodded. "I Understand what queer That sentence means clustering," she said. + Denunciation and criticism of what it calls the "river-guardians" or "master-people"
The trip on the Thames then comes to an end when the group arrives on the banks where the wait "a dozen persons, both, men, women, and children. "That appear in the eyes of Guest, have found happiness" ... and my heart swelled with joy as I thought of all the beautiful gray villages, from the river to the plain to the uplands, All which I Could picture to myself so well, all peopled now with this happy and lovely folk Have you HAD rich cast away and attained to wealth. "
Indeed, one might wonder if the true richness of life is not just that simple happiness and without constraints in this society where everything that composes rhymes with pleasure and well-being.
Chapter 31: An Old House Amongst New Folk
Ellen joined Guest who is detached from the group to contemplate the beauty of the landscape and asks him to drive home. Once again, the narrator uses the Ellen votes to pass his message, it's back to basics, to the land and the true values ​​of life: "The earth and the growth of it and the life of it! If I could say or show how objective I love it! " , Values ​​that are opposed to those of the 19th century society where everything is working, inequality (s) (social), poverty, corruption, degradation and decay and where the pleasure of living and being n ' not exist.
At the end of the chapter, soft head-to-head between Ellen and Guest is interrupted by Dick picked it for dinner and Clara came to take care of Ellen. Thus, the two characters find themselves separated and Guest doubt revisit the beautiful Ellen.
Chapter 32: The Feast's beginning - the end
Dick and Guest will swim before dinner, says Dick will be held in the church. Moreover, it shows his love for the earth and for life in general, which does not escape Guest: "In His Way aussi, as Ellen in hers, I Could See That Dick HAD That passionate love of the earth All which was common to aim FEW people at least, in the days I Knew, All which in the prevailing feeling Amongst intellectual persons was a kind of sour distaste for the changing drama of the year, for the life of earth and Its dealings with men. Indeed, in Those Days thought it was poetic and imaginative to look upon life as a thing to be terminal Rather than enjoyed. "
But that enthusiasm Guest begins to show at the end of the chapter to enjoy the party, dissipates as it passes the threshold of the church and come face to empty and expressionless eyes and Clara Ellen (ditto for Dick ) meaning that it can not be one of them: "No, It Will not do, you cannot be of us, you belong to the so Entirely unhappiness of the past That our happiness even Would you weary. Go back again, now You have seen us, and your outward eyes have learned That In Spite of all the infallible maxims of your day there is yet a time of rest in store for the world, When mastery Has Changed into fellowship - but not before . "... "I was not three yards from the two women who, though beens They Had my companions for Such a short time, HAD really, as I thought, Become my friends. Clara's face was turned full upon me now, she goal aussi About did not SEEM to see me, though I know I was Trying to catch her eye with an appealing look. I turned to Ellen, and she Seem To Recognise About did me for an instant, her goal Directly bright face turned sad, and she shook her head with a mournful look, and the next moment all consciousness of my presence HAD faded from her face.
I felt lonely and sick at heart past the power of words to describe. "
Guest will then return near the old house Ellen longed to see his eyes, "inexpressibly shocked" and not knowing what to do.
This is when the narrator wakes up at his home in Hammersmith, and realizes that this is all a dream that he hopes "[Will add] a little hope for [the] struggle "to go to better days and attain true happiness.
Tomas More Utopia
Yesterday, we had to do a task ! A sort of Glog concerning the utopia of Thomas More and the one of the farm community which is quite different.
Here is the task :
http://zunal.com/webquest.php?w=197473
The concept of literature as a means of discussing or propounding alternative societies dates back almost as long as literature itself. Plato's Republic, usually considered the first example of the genre, dates from around 370 BC.

Sir Thomas More
1478-1535
A utopia can be defined as an ideal or perfect place or state, or any visionary system of political or social perfection. In literature, it refers to a detailed description of a nation or commonwealth ordered according to a system which the author proposes as a better way of life than any known to exist, a system that could be instituted if the present one could be cancelled and people could start over.
The word itself was coined by Sir Thomas More in his 1516 book of the same name, (his imaginary perfect island was called Utopia). The roots of the word are from the Greek ou(not) and topos (place), thus meaning "no place" or "nowhere", although there are also overtones of "good place" from the homonymous Greek prefix eu meaning "good".
In common parlance, it has come to mean an impractical or idealistic scheme for social and political reform, but the original objective of the utopian novel was political,social and philosophical.

New Harmony, Indiana, as envisaged by Robert Owen
Over the years, various attempts have been made to establish real-life utopian communities, many of them in the United States. Several experimental communities were set up in the USA in the 1830's and 1840's following the doctrines of Charles Fourier. New Harmony was established in Indiana under the leadership of a Scottish industrialist named Robert Owen. The Icarians (followers of Frenchman Etienne Cabet's philosophies) established settlements in several US states in 1848. The Oneida Community was a utopian commune in Oneida, New York, also begun in 1848. The Shakers, an English Protestant group, built villages in eight states in the 1840's, as did the Amana colonists in Iowa in the 1850's and the Hutterites in the Dakotas and Western Canada in the 1870's.
Elsewhere, New Australia was a utopian socialist settlement in Paraguay, and there are, even today, Finnish utopian colonies worldwide, including Sointula in Western Canada and Colonia Finlandesa in Argentina. Arguably, kolkhozes (a form of collective farming in the Soviet Union) and Israeli kibbutzes are utopian communities.
Utopia by Sir Thomas More (England, 1516)
Possibly the quintessential utopia, Utopia (the full Latin title is De Optimo Republicae Statu deque Nova Insula Utopia) was written during that great flowering of European culture which was the Renaissance: the Americas were recently "discovered", humanist scholars flourished, the Protestant Reformation was in the air and all things seemed possible. Book I constitutes a discussion of the ills of the laws, governments, economics and morals of the European nations of the time, detailing in particular the severity of the penal code, the gross inequities in the distribution of wealth, the unequal participation in productive labor, and the appropriation of farm lands for sheep grazing. Book II compares with this the system in the imaginary island of Utopia, where everyone is employed in a productive trade, resulting in a six-hour working day, and the inhabitants alternate between living in the city and the country in two-year cycles. There is no private property and no money, and inhabitants are free to take from the supply stores whatever food they need. Laws are simple and clear and there is thus no need for costly and corrupt lawyers. The family and marriage is stressed, and religious freedom encouraged. Interestingly, a system of slavery exists, consisting mainly of criminals and captured prisoners of war, although war is considered barbaric and a course of last resort.
A disutopia
Today i see a disutopia : "There will come Soft Rains" by Bradbury.
Resume:
The story takes place in the city of Allendale, California, which is uninhabited during the story as the protagonist story house, which is the only one still standing in the city. The story tells of the daily tasks of a robotic house after its inhabitants were killed in a nuclear war. The title comes from the poem by Sara Teasdale There Will Come Soft Rains, which also deals with a post-apocalyptic setting.
The house is in good condition but it has no life, it is fully automated and sensitive to its owners and their requests and needs. She continues to serve the dead family, unaware of their absence, though aware of other internal and external perturbations such as the weather and birds attempting to land on it.
Throughout history, homemade breakfast, throws things uneaten, and performs various domestic tasks, day after day, until a storm and the subsequent fire destroyed.