le 11/09/2012
Voyages, parcours initiatique, exil
Travels ==>
Return Travels ==>
Examples (novels, poems,...):
- "Into the World" by J. Krakauer
- "Oliver Twist" by Charles Dickens
- "On the Road" by Jack Kerouac
Authors:
- Jules Vernes
-Balzac
-Homer
Positive Aspects:
- meeting people
- learning new languages
- a way to find the truth or to change your opinion on things
- enriching your own culture
- finding a job
- studying
Drawback:
- the unknow arouse a feeling of insecurity
- danger (you don't know the customs)
- you may feel lost
- the truth can be hard to accept (for insistance, for adopted a children)
- homesickness
-the distance with friends and family
The story of travel
A journey or travel relationship is a literary genre in which the author gives an account of one or travel, people encountered, emotions, things seen and heard. Unlike the novel, the story focuses on the journey of real fiction. To earn the title of "narrative" and have the rank of literature, narrative should be structured and go beyond the simple listing of dates and locations (such as a diary or logbook of a ship). This literature is accountable prints, adventure, exploration or conquest of distant lands.
The travelogue can be as cinematic.
For the historian, the travelogue is also a historical source should contextualize and analyze. Travel narratives provide valuable elements to illuminate the history of international relations, the social and political history of the regions crossed by the traveler, or the history of material culture, food, religion etc. ... Since the 1980s, the trip to Africa relations produced by Europeans in the fifteenth century have been attempts to analyze historical and scientific publications including a critical apparatus developed were produced. Subjected to a rigorous historical analysis, these travelogues are valuable for reconstructing fragments of the history of Africa over the last five hundred years.
11/09/2012
Robinson Crusoé
Robinson Crusoe is a novel by Daniel Defoe, published in 1719.
The full title of the book is translated into French, The Life and Strange Adventures of Robinson Crusoe and surprising York, mariner, who lived 28 years on a deserted island off the coast of America, near the mouth the great river Orinoco, following a shipwreck where all perished except himself, and how he was delivered from an equally strange by pirates. Written by itself.
Summary:
Alpha
In 1651, Robinson Crusoe leaves York, England to sail against the wishes of his parents who wanted him to become a lawyer.
The ship is boarded by pirates of Salé (the famous Sallee Rovers) and Crusoe becomes the slave of a Moor.
He manages to escape on a boat and owes its salvation to a Portuguese ship that goes off the west coast of Africa.
Arrived in Brazil, Crusoe becomes owner of a plantation.



Robinson and VendrediEn 1659, when he was twenty-eight years, he joined an expedition in search of African slaves, but after a storm is shipwrecked on an island at the mouth of the
Orinoco in South America.
All his companions were dead, he managed to recover weapons and tools in the wreckage.
He discovered a cave.
He built a house and assembles a calendar by making notches in a piece of wood.
They hunt and grow wheat.
He learned to make pottery and raises goats.
He reads the Bible and nothing is missing, if it is the company of men.


He realizes that the island he called Despair receives regular visits from cannibals who come to kill and eat their prisoners.
Crusoe, who judge their behavior abominable dream to exterminate them, but he realizes he does not have the right, as the cannibals have not attacked and do not know that the act is criminal.
He dreams of obtaining one or two servants by freeing prisoners and, in fact, when one of them managed to escape, they become friends.
Crusoe named his companion Friday, the day of the week when it appeared.
He learned English and converted to Christianity.


28 years later, an English ship occurs and a mutiny had broken out and the rebels want to give their captain on the island.
Captain Crusoe and come back to the ship and return to England with Friday will always be a devoted servant.
His plantation has been well maintained and became rich.
He traveled to Spain and France, where he is attacked by wolves in the Pyrenees.
He sold his plantation for failing to convert to Catholicism and returned to England.
11/09/2012
Gulliver's travel
Gulliver's Travels (Gulliver's Travels in English) is a satirical novel written by Jonathan Swift in 1721. A censored version and modified by the editor appears for the first time in 1726, it was not until 1735 that he published in full version. It appears for the first time in French under the title Travels of Captain Lemuel Gulliver in the eighteenth century by the Abbot Desfontaines.
These stories are very rich, mix in the relativization, and critical reason, madness and pamphlet, fantasy and science fiction. In this sense, Swift began the era of Enlightenment and precedes Oscar Wilde, Lewis Carroll, but Edgar Allan Poe.
Summary:
Four Gulliver's Travels
This work, written in the first person and divided into four parts.
Trip to Lilliput
Where we see Lemuel Gulliver, a naval surgeon, navigate to Bristol. After a shipwreck, he finds himself on the island of Lilliput, whose inhabitants, the Lilliputians, are only about six inches high (approx. 15 cm). Several aspects of the Lilliputian society seem more advanced than England at the time, yet people spend their time making war. After many adventures, Gulliver discovers the origin of the war between Lilliput and Blefuscu which is the neighboring island a king wanted to impose the side which would be broken by the soft-boiled eggs, hence the name supporters each doctrine, the Big-endian and Little-endian. At the end of the story, Gulliver must flee to Blefuscu Lilliput, following his refusal to enslave Blefusciens defeated, causing him to lose the grace of the Emperor, and especially after a plot by Grand Admiral and some ministers Lilliputians. It would risk a sentence of tearing his eyes remaining, the Emperor having reduced the penalty by the ministers of death. He finally managed to find a ship off back to England.
Voyage to Brobdingnag
Gulliver undertook a second trip and finds himself in Brobdingnag, the author is in the Pacific Ocean between Japan and America. He finds himself in the opposite situation of Lilliput: Brobdingnagiens are all giants. One of them takes Gulliver to take her to his farm, where a little girl, whom he nicknamed Glumdalclitch, takes care of him. It was subsequently bought by the royal court of Brobdingnag and lives there with his nurse Glumdalclitch. Because of its small size, the hero becomes an object of curiosity to the king, the queen and the court, and becomes especially favorite of the queen. He explained to the king the existing political system in England. The sovereign slams English institutions. But as a result of a lack of attention on the part of a courtier who took him for a walk near a cliff, Gulliver finds himself away from his room by an artificial eagle, then rescued by sailors, who him back to England, where he feels for some time to see the people smaller than him.
Laputa travel to Balnibarbi to Glubbdubdrib to Luggnagg and Japan
Laputa adjacent, mirror the flying island of Lagado. Taking advantage of the speculative philosophy, men lose all common sense. It is a critique of philosophy and speculation. The passage also criticizes the "brightest" scientists who want to "enjoy" the people of their brilliant innovations, against his will if necessary, without seeing that very often their inventions lead people to ruin. Scientists eventually lose the right direction.
Journey to the land of the Houyhnhnms
Country populated by Houyhnhnms, horses, beautiful and intelligent arrived at the summit of reason and wisdom, which are the masters of the Yahoos, disgusting animals look miserable behavior, which reveal the despair of Gulliver, be humans. Swift poses a question here of reflection: what is the difference between a human being and an animal? This difference is it real or is it just similar? Should we be ashamed to be human?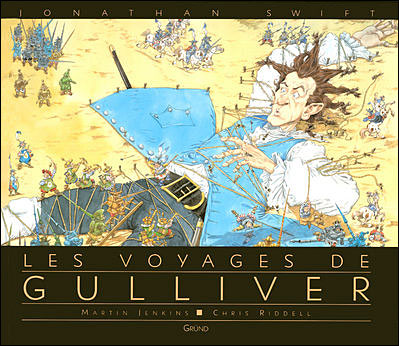 11/09/12
Voyage and return stories: main features
15/09/12
Avatar, voyage
The movie "Avatar" is a film by James Cameron.
First, a quick summary:
Despite his paralysis, Jake Sully, a former Marine immobilized in a wheelchair, has remained a fighter in the depths of his being. He is recruited to travel light years to Earth on Pandora, where powerful industrial groups exploit a rare mineral used to resolve the energy crisis on Earth. Because the atmosphere of Pandora is toxic to humans, they have created the Avatar Program, which allows "pilot" link their human spirit to an avatar, a remotely controlled biological body that can survive in this lethal atmosphere. These avatars are genetically engineered hybrids created by crossing human DNA with that of the Na'vi, the natives of Pandora. In its avatar, Jake can walk again. He is given a mission to infiltrate the Na'vi, become an obstacle too complex to operate the precious ore. But everything changed when Neytiri, a beautiful Na'vi, saves Jake's life ...
We can describe this film, travel film. Indeed, Jake Sully abandons the land to another world: Pandora. Firstly, when it arrives on this planet, he was surprised because he surrounds the military base and the landscape. Then he discovers a new world by controlling avatar. It will be able to walk again (because it is in a wheelchair), discover the flora and fauna of the new world and the danger hidden in this new world. He will understand that humans want to destroy the new people, the Na'vi. And it will change camps and protect this new nation. However, men want to stop and create a wave of violence against him and that the people of the Na'vi. After Jake will integrate this new people, make full part. During the great war between the Na'vi people and he will fight against the men next to the Na'vi people. Finally, when the defeat of the men he decides to stay with the new people and keep its shape avatar. He refers all men on Earth.
30/09/12
Mabel
Here is an excerpt of the work:
The scene takes place in a club at Pagan, during the night. The characters are in a steamer.
The characters are: Georges, the skipper, the secretary, Mabel and the boy.
The role of this part is to introduce the characters and the place.
Basic situation

This extract is divided into 4 parts:
- Part 1: line 22 p.18 to line 24 p.18
- Part2: line 25 p.18 to line 32 p.18
-Part 3: line 1 p.20 to line 7 p.24
-Part 4: line 8 p.25 to the end


Georges was Happy with Mabel?
- brightened
- he is love
- happy ending
- "I'm like alost dog without her"

1) Anticipation stage
George thinks travelling is the best way to avoid marrying Mabel.


2) Dream stage
Singapore, he is happy and he will be safe.
3) Frustration stage
He realizes he can't escape Mabel. She always knows where he is.

4)Nightmare stage
When she stepped out (p.24), she has found him. Georges was petrified.

5) Thrilling escape and return
Back to step one, they got married.
Georges was change?
- He accept to get married
- Nothing has change in the fact taht then eventually get married. However geaorges has understood that be really loves Mabel. At first, love was linked to difficulties. Yet, at the end, they love each other and love is linked to hapiness. He has learnt that it's not by escoping that problems disappear.
- You can't escape your problems by travelling all around the world. Yous must face your problems.
Here are more excerpts from the same author:
30/09/12
Ernest Hemingway: the traveller
A short biography, but before exploring these trips:
Biography:
Ernest Miller Hemingway was born on July 21, 1899, in Oak Park, Illinois, a suburb of Chicago and died on July 2, 1961 in Ketchum, Idaho. He was an American author and journalist. His economical and understated style had a strong influence on 20th-century fiction, while his life of adventure and his public image influenced later generations. He published seven novels, six short story collections, and two non-fiction works. Many of these are considered classics of American literature.
Ernest Hemingway was a man who often fell in love, in fact, he married Hadley Richardson and divorced in 1927; next year, he married Pauline Pfeifer, a reporter and divorced in 1937. In 1940, he married his third wife, Martha Gellhorn, a reporter whom he divorced in 1945 and finally, he married Mary Welsh, a reporter too. Shortly after the publication of The Old Man and the Sea in 1952, Hemingway went on safari to Africa, where he was almost killed in two successive plane crashes that left him in pain or ill health for much of the rest of his life. Hemingway had permanent residences in Key West, Florida, and Cuba during the 1930s and 1940s, but in 1959 he moved from Cuba to Ketchum, Idaho, where he committed suicide in the summer of 1961.
Ernest Hemingway was also a an outdoorsman, in fact, he loved play bull-fighting when he went to Pamplona, He liked fishing and hunted in Florida and Wyoming; he was also a war reporter. In 1918, he was at the Italian Front and that's when he fell in love with a nurse, but she turned him down. He worked on Spanish Civil War and war correspondent in France; he was present in Paris during the Libération.
Ernest Hemingway was also a great traveller; he came in Italia at Venice, where he stayed several months; in Spain at Pamplona for example; in France in Paris , in Africa for safris; in Kansas, at Chicago. He shared his time between Key West,Florida for winter and Wyoming for summer. He settled in Cuba in 1939 and later shared his time between Cuba and Idaho where he died.
To my mind, Ernest Hemingway was a great person; he was with soldiers during the war; he was attracted by the action; he loved cats and wrote about places he had been and people he had known, his real life and emotions he had felt. In 1954, he received the nobel price of literature. He was intelligent and he saw many differents cultures and things which enriched his own life and his thoughts. He enjoyed life and did as many things as he could wich is remarkable.
William Somerset
I will talk about a short story by William Somerset, called

"Mabel".
At the beginning,The scene takes place at Pagan, in Burma.

The characters present are the narrator, George, a friend of George and Mabel.

*Basic situation : Goerge and Mabel are engaged, they are going to get married in 6 months (from line 22 p.18 to line 24 p.18). *Rising situation : There are a lot of problems which delayed the wedding (Mabel's father died), Goerge had to go away (from line 25 to line 32 p.18). *Climax of this story : Goerge had not seen Mabel for 7 years, hewas afraid of getting married with a stranger and decided to escape. (

= Anticipation Stage

) . He arrived at Singapore , where he thought he will be safe (

= Dream Stage

) . Each times, he arrived in one place (he traveled around the world), he discovered he recieved a telegram from Mabel, saying, she wanted to come. Goerge tried to stay apart from her. (

= Frustration Stage

). (from line 1 p.29 to line 17 p.24). *Resolution : She managed to find him , Goerge was petrified (

= Nightmare Stage

). But, They spoke each other, ad, back to step one, they got married (

= Thrilling escape and return

). (from line 17 p.24 to line 10 p.26)
===>Nothing has changed in the fact they eventually get married. However, Goerge has understood that he really loves Mabel. At first, loove was linked to difficulties (death, war), whereas, at the end, they lived happy. He learns that you can't escape your problems by travelling all around the world, you must face your problems and you can solve them.
14/10/2012

The Old man and the sea
Ernest Hemingway
1952
I suppose this novel is about experience of a cold man in the sea because in the front page i see this old man in front of the sea. In cover page, i see the old man is a fisherman.
"You are killing me, fish..." Maybe he wants to say that his job is killing him beacause it's tiring.
The old man and the sea has a nobel price.
It is the story of an old Cuban fisherman, down on his luck and his supreme ordeal - a relentless, agonizing battle with a giantmarlin far out in the Gulf Stream.
The story takes places in a skiff in the Gulf Stream, in Cuba.
The characters are "the old man", and "the boy" and "the boy's parents" (mentionned), Rogelio (mentionned).
The old man is describe :
"was thin and gaunt with deep wrinkless in the back of his neck", "the brown blothes of the benevolent skin cancer", his eyes and they were the same color as the sea". His name is Santiago.
The boy is describe:
He appear young.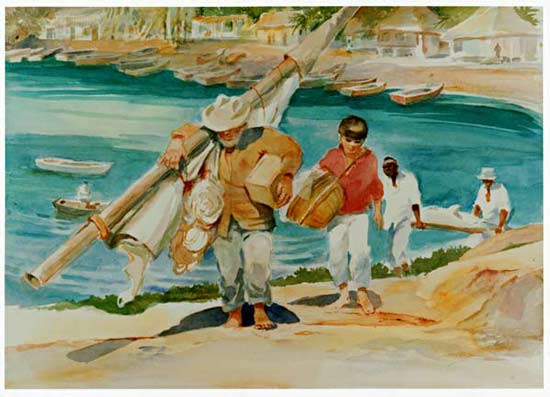 The boy is closed to Santiago (the old man). Beacause despite of the old man haven't chance, the boy went on the other skiff. However,he chooses to come back on the skiff's Santiago, as the boy like the old man.
The main character appears to be a little lucky person because he did not fish. On the other hand, it also appears as a person sad and alone on his boat.
Other hand, we can see that this man was for the sea to be a fisherman because he has blue eyes as if the sea had rubbed off her eyes.

Other characters make fun of him because they think Santiago doorthe evil eye. On the other hand, they are sad for him beacause for them be have the evil eye then they are sad for his life. They have trouble for him.
The main character think that the day this will change, thewheel (hopefully) running. He thinks he can compete with other fisherman who denigrated beacause the main character isn't fishing anymore.

14/10/2012

FILM GLOSSARY
bird's eye view: vue d'avion
close up, close shot: un plan rapproché
cross cutting: simultaneité de deux scène
deep focus: profondeur de champs
dissolve, lap dissolve: fondu enchainé
dolly shot, tracking shot: travelling
establishing shot: scène d'ouverture
extreme close-up: très gros plan
extreme long shot: plan très large
eye level shot: caméra hauteur des yeux
fisheye lens: déformation du à l'angle de vue
full shot: plan d'ensemble
high angle shot: vue en plongée
low angle shot: vue en contre plongée
medium shot: plan américain
over the shoulder shot: vue par dessus l'épaule
point of view shot: vue du personnage
shot: vue
Sub text: le sous entendu, le non dit
The old man
Second part
During the last lesson, in order to study the second part in the best conditions , as if we were children. In fact, we asked questions ourselves ; the type of questions many children ask to their parents about childhood stories.
If you want to read the text at the same time, click on the picture bellow (to see what I mean) !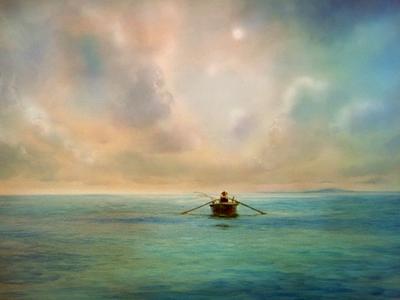 Here are two of these questions :
Line 1 : How come the old man knew Africa ? ( Africa may have attracted him for a long time ( that's what I answered))
or
line 7 : How come the smell of the breeze came very early ?
Then, we compared our answers, and obviously, it wasn't the same , for example , when we asked the question : how come the old man knew Africa ? Some pupils answered : he may have been born there !
Eventually , the same question was in our minds :
Does this part correspond to the famous stage of the"Dream Stage" ?
Well, in the "dream stage" everything is new; and, in this part , the old man doesn't feel disconcerted since he considered the ocean as a woman, not as a contestant or an enemy but as a friend ; we can also say that the old man has a deep knowledge of the ocean. It's only at the end of the passage that he enters in this stage indeed the current has pushed him far away , he hasn't got everything on the control anymore.
The Old man and the sea
Part 3
This passage is really typical of the "frustation stage" which is a stage of difficulty and oppression.
The old man discovers he is having a hard time with a fish which is drifting him far away from the coast. He can't catch it for fear his line might break. He is waiting for a fish to get tired. He regrets the boy's absence : if the boy was here , they would manage to catch the fish. He also suffers from solitude; that's why he is speaking to himself. The absence of the boy is becoming oppressive as it is mentioned at the beginning : "I wish I had the boy" and the end of the passage : "I wish the boy was here". To fight against this oppressive feeling, the old man develops positive feelings towards the fish. Indeed, he refers to the fish with the pronoun "he" as if it was a human being and he credits it with intentions ("he knows"...)and feelings "desperate", "love". Consequently , as the old man evokes the beauty of the nature, he discovers he pities the fish. Is he starting to regret being a fisherman and bringing death to a world he admires so much.
The old man and the sea
Part 4
In the fourth part, the sharks come and eat the fish. Their arrival was predictable because the fish was bled, the old man can't take it in the boat so the sharks arrived. Once more, he personnified the sharks.
The old Man and the sea
Part 5
Part five, the end of the novel .
The old man experienced the dangers of the sea but he had already experienced those dangers. He must have encountered sharks before since he managed to kill them. In the old man's point of view nothing has change, he believes he's still unlucky, he has been defeated ( "they beat me" ). He think that he's an old man and too old to catch alone.
Although he managed at last to catch a big fish, a big fish he should have been proud of, he didn't managed to bring it back to the village.That what making him feels unlucky.
At the end he had exactly the same dream he had before left the village at the beggining. It's like a circle as if he wasback to step one.
Yet a lot of things has changed: the people's opinion on him has change indeed now they admire him whereas they used to scorn him; consequently Manolin will be able to come back and fish with him and so he won't be alone anymore.
Therefor he might be lucky again as Manolin will bring his youth and his strength with him.
In this travel novel the main character isn't aware of the changes that have occured during his experience, he will become aware thanks to the other characters who will make him understand how heroic he has been.